Click HERE for an interactive tutorial. Scroll to the bottom for animated steps.
---
Detailed Step-by-Step Tutorial
Add Icons Group
Go to Format at the top of the page.

Drag Button widget to an area of the page where you'd like to add it to.
---
Manage Icons Group
Double-click on the icons group or highlight it and go to Settings pane > APP

Icon Source: Select the sources of the icons between icon and image galleries.
Layout: Choose horizontal or vertical layout for the icons group.
Icon Position: Choose position for the icons in the group.
Icon Size: Use the slider to set the size of the icons.
Icon Color: Use color picker to set the color for the icons.
Show Heading: Toggle ON to show heading for the icons.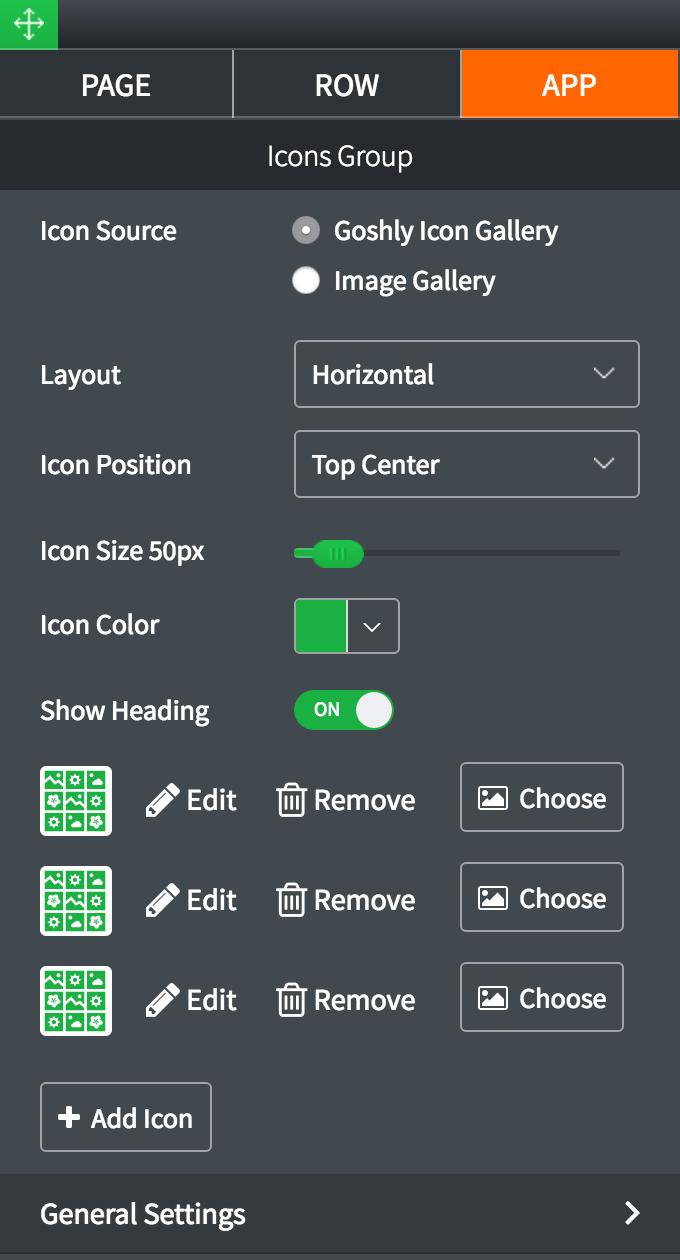 Edit: Click to reveal icon options.
Icon Link: Choose what to link the icon to (i.e. existing web-page of your website, an outside url, etc.)
New Window: Toggle ON to open icon's linked source in a new browser window.
Heading Text: Enter and format the text if you chose to show icon heading.
---
Choose Icon
Choose: Click the button to reveal icons gallery and additional options.
---
General Settings
Title: Enter the title.
Show as Tooltip: Show the title as tooltip (text that appears when your mouse hovers over the blog).
Top: Set top margin.
Left: Set left margin.
Width: Set the width.
Background
Color: Choose background color.
Opacity: Set opacity for the background.
Image: Enable to use an image as a background.
Size: Choose background size (i.e. auto, 100%, etc.).
Position: Set position of the background.
Repeat: Choose repeat type for the background.
Border
Color: Choose border color.
Style: Chose border style.
Width: Choose the width of the border.
Radius: Choose border corner radius.
Box Shadow
Shadow: Toggle ON to create a shadow for the blog.
H-Shadow: Set horizontal position of the shadow.
V-Shadow: Set vertical position of the shadow.
Blur: Set blur value for the shadow.
Spread: Define how far the shadow spreads.
Color: Set the color for the shadow.
Style: Select between inset and outset.
---