With Goshly you can register a free domain or link your site to existing domain.
---
From the site you want to point to a domain click on the arrow to the right of Goshly logo.

Go to My Account.
Go to MY DOMAINS.

Click Get Free Domain

Type in the desired domain and click Check Availability.
If your desired domain name is not available, type in a variation to find an available domain name.

When you find an available domain name you want to register, type it in under Register Your Domain along with required contact information.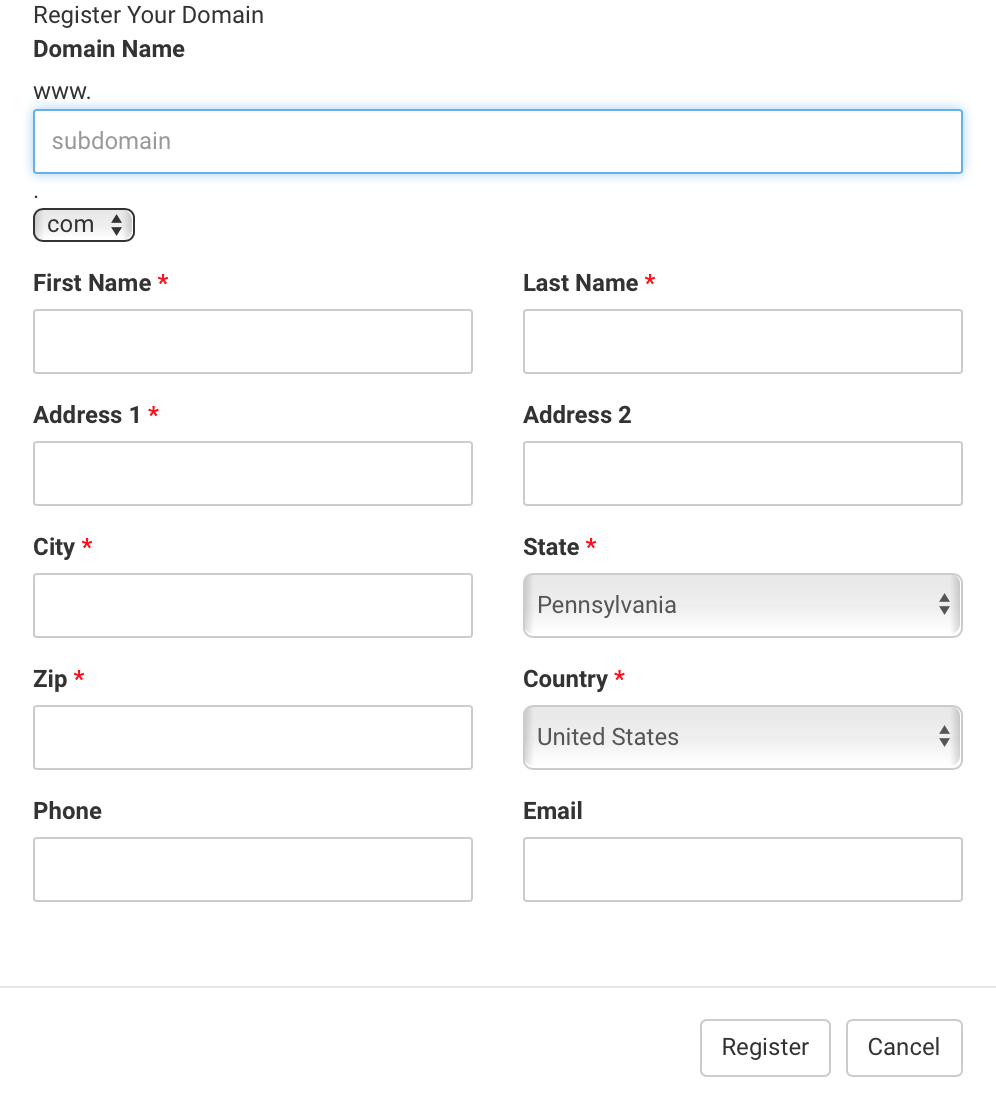 Click Register to complete the registration.
---
Link Existing Domain
If you already have a Domain registered (i.e. at Godaddy or another Registrar), please follow the steps below to point the Domain to your Goshly Website:
There are 2 records that need to be changed:
CName: Host – 'www', Points to - '[yoursubdomainname].goshly.com'

ARecord: Host - '@', Points to - 216.176.182.243
Click on your registrar name below to download instructions on changing the A Record and CName:
Below is a step by step guide using a Godaddy Registered Domain as an example:
Step 1
Once you are ready for your Website to go live, click PUBLISH in the top right hand corner of the Website Builder (this won't send your website live until all steps below are completed).
The Website will then publish to your SUB-DOMAIN.  This is required to point your registered Domain registered elsewhere: A new Window will open with your Sub-Domain in the Browser URL (in this example the sub-domain is: mikeandally.goshly.com):
Step 2
Login to your Godaddy account and go to DOMAINS

Double-click the domain you want to point. 

In the example below, we are going to point 10westpartners.com
Step 3
Click the DNS ZONE FILE tab
Click to edit the A(Host) record.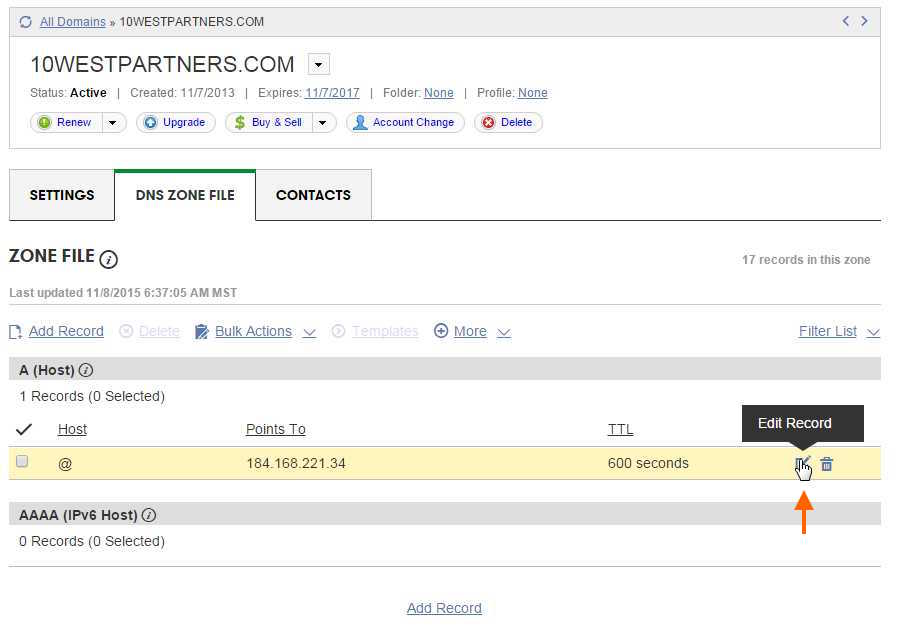 Enter: 216.176.182.243 in the POINTS TO field and click FINISH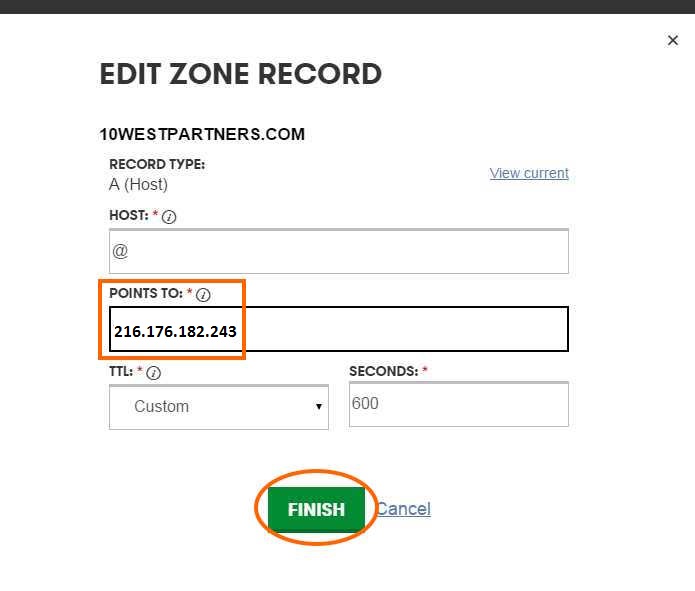 Step 5:
Click to EDIT the Cname(Alias) 'www' record: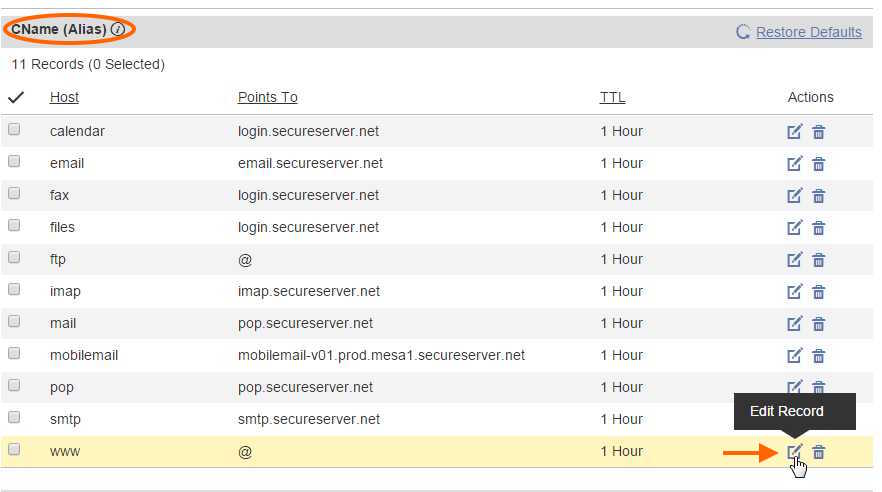 Enter your Sub-domain (no http or www) in the POINTS TO field.

Leave TTL field as '1 hour' and click FINISH
You have now completed the necessary record changes in order for the Domain to point to your Goshly Website.
The final step is to 'connect' the Domain with your Goshly account.
In your Goshly Dashboard, click My Account for the Website you want to point to a domain.
Go to

MY DOMAINS

 > Link Existing Domain

Enter the actual Domain Name (include http://www.) you will be using.

Click SAVE.

That's it! When you see the screen below, hit Continue. Depending on the Domain Registrar, it can take up to 48 hours to propagate to your Domain. Usually, it's much quicker (GoDaddy, for example, is often immediate).
Save