Click HERE for an interactive tutorial. Scroll to the bottom for animated steps.
---
Detailed Step-by-Step Tutorial
Go to ECOMMERCE > Store Management.
Go to Catalog > Products.
Category: Select a category from dropdown to only show products from the selected category.
Filter: Use options in the dropdown, including Featured Products and Best Selling Products, to only show items matching the filter criteria.
Delete: Delete an individual product or use checkboxes to delete multiple at once.
ID: Displays product IDs.
Name: Displays product names. Click on a product name to edit product details.
Short Description: Displays short description for each product.
Part Number: Displays part number for each product.
Stock: Displays the number of products available in your inventory.
Price: Displays item price for each product.
Retail Price: Displays retail price set in product details for each item.
Preview: Allows to preview the product in your store.
Copy: Allows to create a copy of the product.

---
Add New Product / Edit Existing Product
Click  to add a new product to your catalog, or click on an existing product's name to edit it. The settings for products can set on the following tabs: 
---
Fields with * are required.
Name: Enter product name.
Category: Select a category for the product and use an arrow button to add it to the product.
Brief Description: Enter a brief description for the product.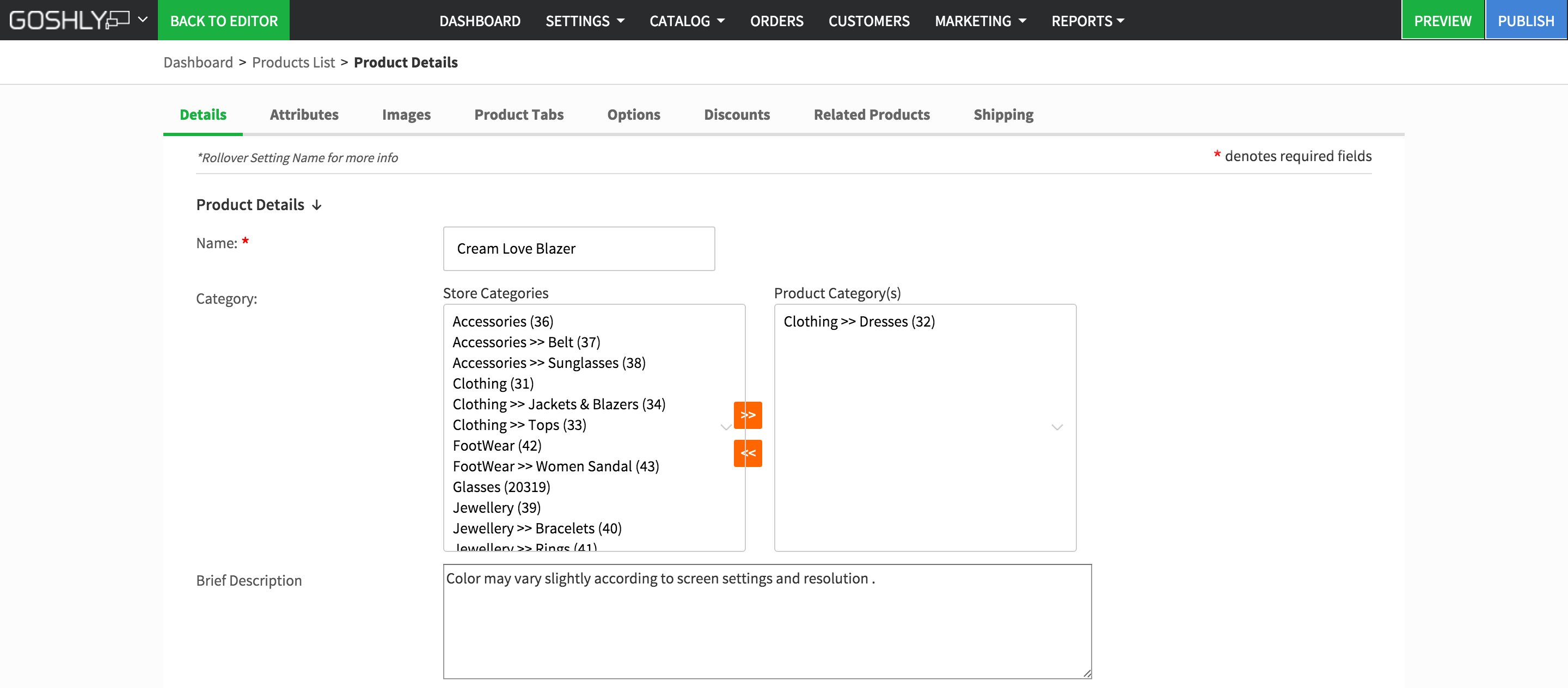 Long Description: Enter a long description for the product (may include images).
Part Number: Enter part number for the product (visible to admins only).
Price: Enter unit price for the product.
Text displayed before price: Optionally change the default 'Our Price' to a custom text to display before price.
Retail Price: Enter a retail price of the product.
Recurring/Subscription Payment 
Toggle Yes to make the product part of subscription model.

Include Shipping Cost: Toggle Yes to include shipping cost in the subscription price.
Override default text: Toggle Yes to override the default text.
Text: Enter the text to display.
Subscription Length: Enter the number of years for subscription length.
Billing Frequency: Choose how frequently to bill subscription customers for the product (daily, weekly, monthly, or yearly).
Subscription Period: Enter the number of months for subscription period.
One Time Setup Fee: Enter the amount for the one time setup fee, if any.
Tax Setting: Choose a tax setting from the dropdown for the product. You can manage your store's tax settings by clicking Manage Tax Settings button.
Click Save Product.
---
Model Number: Enter Model Number, if necessary (internal use only).
Weight: Enter product weight (will be used for shipping purposes). You can set global setting for using either KG or LB under Store Settings.
Brand: Enter brand name (will be shown as a search filter).
Manufacturer Part Number: Add MFG part # (internal use only).
UPC Code: Enter product's UPC code (internal use only).
Search Keywords: Enter keywords (up to 10 words, separated by comma), to help your customer searching for this product.
Featured Product: Toggle Yes to include the product in the featured products section (if added to the website).
Best Selling Product: Toggle Yes to include the product in the best selling products section (if added to the website).
Downloadable Product: Toggle Yes if this is a digital/downloadable product. When customers pay for such a product, they will be directed to the product download page.
Inventory Control: Toggle Yes if you want to designate how much inventory available for this product. Once the inventory is 0, the product will show as Out of Stock.
Product Reviews: Enter the number of stars to use in this product's reviews.
Product Tag: Pick a tag (shown in the corner of the product listing box, i.e. Sale) or create a custom one.
Product Active: Toggle Yes to show the product in your Store Catalog.
Click Save Product.
---
NOTE: If the product will have Swatch Color Options, then go to Options tab to upload images.
Upload largest product images possible, they will be downsized automatically.

Recommended Image Dimensions:
- Portrait: width - 733px, height - 1100px.
- Landscape: width - 1100px, height - 733px.
Drag & Drop images or browser and choose files.
Choose the image to use as the main image for the product and click Set as Primary.

Click Save Product.
Images 360 View
If you'd like to have a 3D view of the product, upload the 360 degree product photos under Images 360 View tab.
---
You can view all tabs applied to the product, and add/edit product-specific tab descriptions on this page.
Open First Tab on Default:

Toggle Yes to have first tab opening on default.

Tab Description:

Enter product-specific (if any) tab description here.
Manage Product Tabs
Click

  

to edit existing tabs or create new ones.

Add Tab: Click Add Tab button to add a new tab.
Delete: Delete an individual tab or use checkboxes to delete multiple at once. Product Description and Review tabs are part of the store layout and cannot be deleted.
Tab ID: Displays ID for each tab.
Tab Name: Display name of each tab.
Tab Order: Displays tab order as they will appear in the store.
Active: Toggle Yes to make tabs active.
Product Specific: Toggle Yes to make tabs specific to the product.
Move Up/Down: Use arrows to rearrange tab order.

Edit: Click Edit to make change to tabs.
Add/Edit Tab
Click

 
Click Add Tab button to add a new tab or Edit button to edit an existing tab.
Product Tab Title: Enter the title for the tab.
Product Specific Only: Toggle Yes if the tab only applies to the product that is being edited.
Description: Enter tab description. NOTE: for product specific tabs description can be created while adding/editing individual products.
Active: Toggle Yes to make tab active.
Show Social Share Buttons: Toggle Yes to enable social share buttons on the tab.
---
Option: Check off boxes add desired product options to the product, if any.
Click  to manage product options.
Preview Image (Dropdown Type Only): Check the box to enable preview images for the product option.
Preview Images: For the product tabs with enabled Preview Image option, click on the Preview Images button to upload the images for the option.
---
Select a quantity discount and coupons to work with the product.

---
Search Products to Add: Find products to add as related products by searching by part # or product name. Check off the products you'd like to add in the search results, and click Add.
Related Products: Added related products are displayed in the table. Use the trash can icon to delete product(s) from featured products.
---
Requires Shipping:

Toggle Yes if the product requires shipping (not a digital product).

Shipping Method:

Toggle Yes to offer existing shipping methods and define shipping cost.

Add New Shipping Method:

Click the button to

add/edit shipping methods

.
---